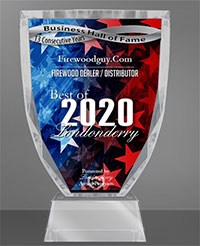 All of our firewood has been Kiln Dried to USDA/T314.c heat-treatment standards (71/75) as per outlined by http://www.nhbugs.org/ to eliminate (destroy) various "Insects / Bugs and Wood Pest Infestations". (Heat-Treatment Certification # VTFW 10-0003).
All of our firewood has been pre-seasoned (shed-dry) for 6+ months as per outlined by EPA /Burn Wise standards to protect your home, health, and air.
All of our firewood is pre-stacked for quantity in 12", 16" or 20" lengths and sold in "fraction-of-a-cord" increments as per outlined by N.H. DEPT. OF AGRICULTURE WEIGHTS & MEASURES.
For our current price list, Email us at

[email protected]

or call the Firewood Guy at (603)-437-0940.
All of our "Sterilized" firewood is sold at our Londonderry Roadside Stand. "FREE" home delivery and stacking available.
For more consumer awareness ! "Avoid buying local (native) firewood that has signs of active insects & bug infestations". For more consumer info, call NHBugs hotline at 603-271-3681 or NH Forestry hotline @ (603) 464-3016 or UNH Extension infoline @ 1-877-398-4769.
For more info on our value-added firewood, please
e-mail us
or call 603-437-0940.

Click here to view our Home Delivery Service gallery.
Click here to view our Quality Control / Customer Assurance gallery.
Click here for our business gallery.