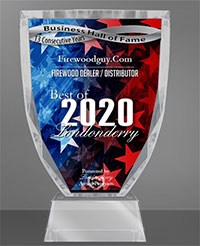 Buyer Beware! "....... not all cordwood (firewood) is created equal".
NHDA/M&F Facts ! .... consider all NH Native firewood is most likely contaminated (tainted) with EAB and other Diseases infestations. For more consumer info., visit
NHBugs.org
web site or call NHBugs hotline at 603-271-3681; or call NH Forestry hotline @ (603) 464-3016; or call UNH Extension infoline @ 1.877.398.4769.
All of our "Green" firewood has been "heat-treated for bug infestation" for 75 minutes to eliminate and preventing the risk of us re-spreading "EAB" and other various "Wood Pests" and "Disease" infestations to our customers.
All of our "Seasoned" firewood has been fully seasoned via "shed-drying" as per outlined by EPA/Burnwise standards.
All of our firewood is pre-stacked for quantity in 12", 16" or 20" lengths and sold in "fraction-of-a-cord" increments as per outlined by N.H. DEPT. OF AGRICULTURE WEIGHTS & MEASURES.
All of our firewood sales meets and complies to all federal, state and local regulatory requirements and NH/BMP (NPB) guidelines.
Our "Bug Free" firewood is now available locally near you. We offer Curbside Pick-Up and Home Deliveries.
Customer Assurance; We offer "Bugless" firewood, since 1997. (NH License # 269227)
Our Money Back Guarantee ! Get the item you ordered or your money back - it's that simple.
Click here for our PRICE LIST or click here for our online ORDERING FORM. Or buy-it-locally from our mobile "farm-vendor" stand near you.
Always Be Prepared! ... to keep enough fireplace wood on hand, before your next Black-Outage occurs in your neighborhood.
NOTE: We are constantly making changes to help mitigate the risk of COVID-19 transmission.
For more info on our value-added firewood, please
e-mail us
or call 603-437-0940.

Click here to view our Home Delivery Service gallery.
Click here to view our Quality Control / Customer Assurance gallery.
Click here for our business gallery.