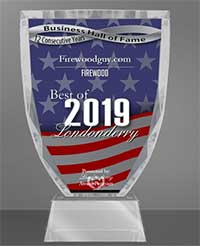 Buyer Beware! "....... not all cordwood (firewood) is created equal".
Firewood Pest Alert ! ... buy local "certified/bug free" firewood vs buying local "bug infested" firewood... For more consumer awareness, visit "Don't Move Firewood" at NHBUGS.org.
All of our cord wood has been kiln-dried (K/D) to T314.c Heat-Treatment Standards (71.1 °C for 75 minutes) to eliminate and prevent any re-spreading of bugs, insects and disease infestations thru-out your neighborhood.
All of our firewood is stored in a "Pest Free" environment and remains "DRY" during all adverse weather conditions.
All of our firewood is federal and state "pest free" approved and is sold in a pre-stacked cord measurement as outline by N.H. DEPT. OF AGRICULTURE WEIGHTS & MEASURES LAW REQUIRES: that cordwood (firewood) must: 1. Be sold by the cord or fraction of a cord; 2. Contain 128 cubic feet per cord when stacked; 3. Be accompanied by sales slip stating the amount of wood sold & the price.
All of our "pest free" firewood is "seasoned-dry" and is sold in "fraction of a cord" units; 1/8 cord (16 cu ft), 1/6 cord (21.334 cu ft), 1/4 cord (32 cu ft) and 1/3 cord (42.667 cu ft) @ $19.50 per cu ft.
We offer Local Customer Pick-up, Free Delivery and Free Stacking.
Click here for our PRICE LIST or click here for our online ORDERING FORM. Or buy-it-locally from our mobile "farm-vendor" stand near you.
Always Be Prepared! ... to keep enough fireplace wood on hand, before your next Black-Outage occurs in your neighborhood.
NOTE: We are constantly making changes to help mitigate the risk of COVID-19 transmission.
For more info on our value-added firewood, please
e-mail us
or call 603-437-0940.

Click here to view our Home Delivery Service gallery.
Click here to view our Quality Control / Customer Assurance gallery.
Click here for our business gallery.




© 1997-2020 Firewood Guy. All Rights Reserved.