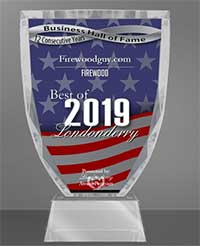 Not All Firewood Is Created Equal ..................
Buyer Beware! "....not all firewood is created equal". Visit
www.NHBUGS.org
to learn more about consumer protection when purchasing "wood-pest infested" firewood ending up at your homestead.
* Our "sterilized" firewood has been kiln dried to USDA T314-c Heat-treatment standards as outlined in our USDA / tri-state compliance agreement # NH-EPP-EAB-0014.
* All of our firewood is pre-stacked and sold in a fraction-of-a-cord measurement as per outlined by "N.H. DEPT. OF AGRICULTURE WEIGHTS & MEASURES LAW REQUIRES: that cordwood (firewood) must: 1. Be sold by the cord or fraction of a cord; 2. Contain 128 cubic feet per cord when stacked; 3. Be accompanied by sales slip stating the amount of wood sold & the price".
* 1/8th of a cord (16 cu ft) cost $325.00 each, delivered and stacked where you want it.
* Our firewood is fully seasoned and ready to burn when purchased. No additional seasoning or drying out time is required.
NOTE: Remember to stock-up on your fireplace wood before your next Black-Outage occurs!
For more info on our value-added firewood, please
e-mail us
or call 603-437-0940.

Click here to view our Home Delivery Service gallery.
Click here to view our Quality Control / Customer Assurance gallery.
Click here for our business gallery.