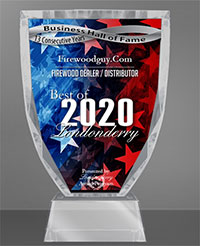 Buyer Beware! "....... not all cordwood (firewood) is created equal".
NHBUGS Alert / Damaging Insects & Diseases ! ..... for more consumer awareness, click here
NH BUGS
.
USDA APHIS Alert / Invasive Pest ! ..... for more consumer awareness, click here
HUNGRY PESTS
.
Our Vermont firewood has been pre-sterilized via USDA T314.c (71.1 °C for 75 minutes) heat-treatment standards to eliminate all various wood-pests contamination that's concealed in or on our firewood.
Our Vermont sterilized firewood is seasoned/dry in our "shed-dry" environment as per outlined by EPA "Burn Wise" guidelines.
Our firewood is sold as per outlined by N.H. DEPT. OF AGRICULTURE WEIGHTS & MEASURES LAW REQUIRES: that cordwood (firewood) must: 1. Be sold by the cord or fraction of a cord; 2. Contain 128 cubic feet per cord when stacked; 3. Be accompanied by sales slip stating the amount of wood sold & the price.
Our "Eco-Friendly" firewood is sold in "fraction-of-a-cord" units. 1/8 cord, 1/6 cord, 1/4 cord and 1/3 of a cord in 12" or 16" or 20" lengths. Free delivery and stacking available. Outside palletizing available.
Click here for our PRICE LIST or click here for our online ORDERING FORM. Or buy-it-locally from our mobile "farm-vendor" stand near you.
Always Be Prepared! ... to keep enough fireplace wood on hand, before your next Black-Outage occurs in your neighborhood.
NOTE: We are constantly making changes to help mitigate the risk of COVID-19 transmission.
For more info on our value-added firewood, please
e-mail us
or call 603-437-0940.

Click here to view our Home Delivery Service gallery.
Click here to view our Quality Control / Customer Assurance gallery.
Click here for our business gallery.