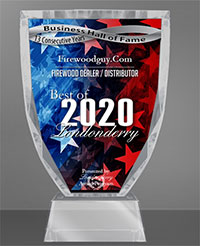 Buyer Beware! "....... not all cordwood (firewood) is created equal".
NHBUGS Alert / Damaging Insects & Diseases ! ..... for more consumer awareness, click here
NH BUGS
.
USDA APHIS Alert / Invasive Pest ! ..... for more consumer awareness, click here
HUNGRY PESTS
.
Our "Certified" firewood is NHDA, MFS and HOMEOWNER Approved; Certified (Green-Mountain) Quality Firewood.
All of our firewood products has been pre-sterilized via USDA T314.c (71.1 °C for 75 minutes) heat-treatment standards to eliminate the risk of spreading various Wood-Pests Infestations to the end user. (Certified Heat-Treatment Certificate # VT 10-0003)
Our "Sterilized" firewood is kept in dry storage during all adverse weather conditions and "Safeguarded" from becoming contaminated with native invasive NHBugs and Disease infestations.
Our firewood is "Pre-Stacked" and sold in "Fraction-of-a-Cord" increments, in 12" or 16" or 20" lengths.
Customer Assurance; We are a NH "registered" firewood dealer (# 269227), Since 1997.
NHDA Consumer Warning; For more consumer awareness about the risk of buying native "Bug or Disease" infested firewood or the latest firewood quarantine information in or around your neighborhood, Call (603) 271-2561.
USDA Consumer Awareness; Protect your trees, shrubbery plants, vegetable and flower gardens .... buy "Certified/Pest Free" Firewood.
Note: Our "Heat-Treated" fuel wood is safe to use in all EPA "catalytic combustor" units.
Click here for our PRICE LIST or click here for our online ORDERING FORM. Or buy-it-locally from our mobile "farm-vendor" stand near you.
Always Be Prepared! ... to keep enough fireplace wood on hand, before your next Black-Outage occurs in your neighborhood.
NOTE: We are constantly making changes to help mitigate the risk of COVID-19 transmission.
For more info on our value-added firewood, please
e-mail us
or call 603-437-0940.

Click here to view our Home Delivery Service gallery.
Click here to view our Quality Control / Customer Assurance gallery.
Click here for our business gallery.