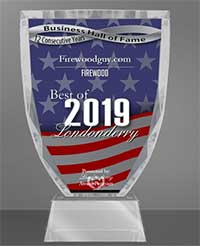 Buyer Beware! "....... not all cordwood (firewood) is created equal".
NH-DAMF Eco-Facts!

" .....all (un-wanted) insects, bugs, invasive wood pests and forest fungus diseases travels in all (un-treated) firewood". Visit NHBUGS.org for more consumer awareness about "Damaging Insects and Diseases" when you purchase green or seasoned "un-treated" firewood that's being delivered into your neighborhood.
We are a NH licensed business #260227, since 1997.
We are a federal and state approved firewood vendor, safeguarding storage / transporter and distributor, US-APHIS # NH-EPP-EAB-0014.
All of our heat-treated firewood has been kiln dried (K/D) to the highest US-APHIS heat-treatment standards "aka T314.c", to help eliminate the spreading of the Emerald Ash Borer (EAB), the Asian Longhorned Beetle (ALB), Oak Wilt Fungus, Winter Moth, Gypsy Moth, Spotted Lanternfly insects and all other various native "wood-pests" and forest "fungus diseases" from being transported into or thru-out your neighborhood.
Once the kiln drying process has been completed , Our sterilized firewood is then stored in a shed-dry environment to fully season and remains seasoned-dry during all inclement weather conditions until sold.
Our heat-treated firewood is eco-friendly and is approved by federal and state authorities for in-state and out-of-state distribution.
Our heat-treated firewood is eco-friendly and meets US-EPA "burn-wise" standards (i.e. 20% or less core M/C) and is "ready-to-burn" when you purchase it. No additional seasoning or drying out time is required.
Our heat-treated firewood is eco-friendly and meets USDA "food-grade" heat-treatment standards for commercial BBQ-ing and smoking woods.
Our heat-treated firewood (camp wood) is eco-friendly and meets and or exceeds the heat-treatment requirements in all federal, state, private parks and camping grounds.
All of our cordwood (firewood) has been cut into uniform lengths and is delivered and sold in a pre-stacked "fraction of a cord" unit as outlined by "N.H. DEPT. OF AGRICULTURE WEIGHTS & MEASURES LAW REQUIRES: that cordwood (firewood) must: 1. Be sold by the cord or fraction of a cord; 2. Contain 128 cubic feet per cord when stacked; 3. Be accompanied by sales slip stating the amount of wood sold & the price.
We only offer fraction-of-a -cord (partial cords) units, in 12" or 16" or 20" lengths in 1/8 of a cord, 1/6 of a cord or 1/4 of a cord and 1/3 of a cord sales.
All of our firewood sales includes delivery and re-stacking in your garage, wood-shed or your firewood log rack.
For an instant quote, click here for our PRICE LIST or click here for our online ORDERING FORM.
For Customer Assurance, Always "Fully Inspect" your firewood upon delivery before off-loading commences.
Always keep enough fireplace wood on hand, before your next "Black-Outage" occurs in your neighborhood.
For Best Management Practice, "...buy it where you'll burn it, buy certified heat-treated firewood...".
For more info on our value-added firewood, please
e-mail us
or call 603-437-0940.

Click here to view our Home Delivery Service gallery.
Click here to view our Quality Control / Customer Assurance gallery.
Click here for our business gallery.




© 1997-2020 Firewood Guy. All Rights Reserved.